Mission Scheduling
---
Thanks to our RTLS localization technologies, the scheduling of the forklifts' movements becomes a dynamic and efficient process. The managers can adapt the scheduling to the real situation in the warehouse, which for various reasons, may differ from its logical representation.
Description
---
Knowing the position of each moving asset in real time thanks to RTLS localization technologies allows you to improve missions scheduling opportunities compared to a traditional WMS.

The optimization system aims to minimize the empty paths of the forklifts, reducing the time required to perform missions and taking into account logistical constraints.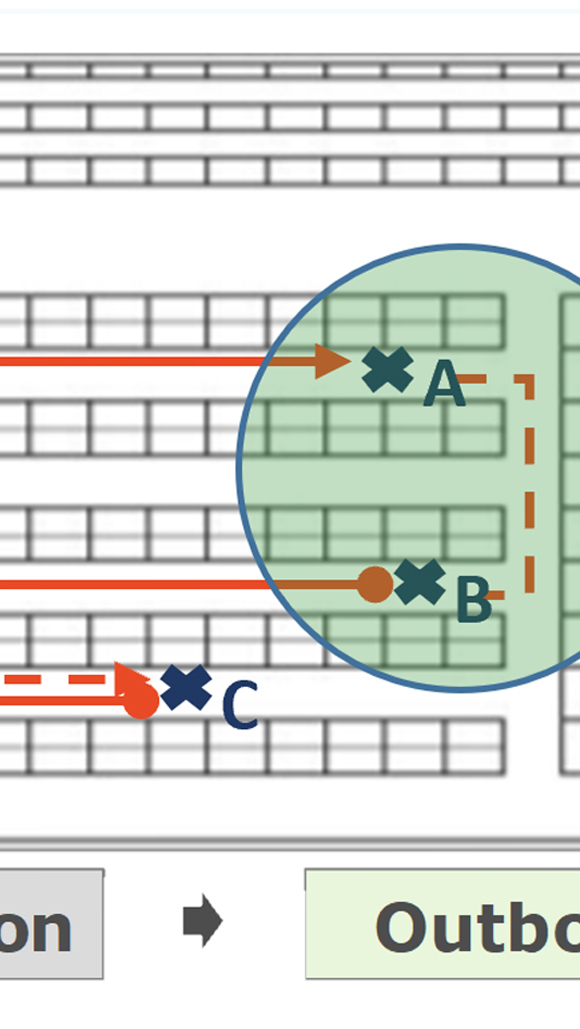 Advantages
---
Truck fleet productivity thanks to route reduction: + 20%
The sequence respects the preparation priorities required for the shipment
Times reset with stationary forklifts
Forecasting: the system is constantly learning to improve its estimates
Mission Scheduling features that improve your work
Scheduling
Optimization algorithms that can be configured to define the criteria for choosing the distribution and sequencing of work in the warehouse based on the location of the forklifts: minimization of empty paths, reduction of mission completion times, reduction of lead times.
Fleet monitoring
The planner can monitor the work queues for each logistics process and check the lead time and the estimated completion of work.
Production
RTLS Mission Scheduling allows you to reorganize the fleet of forklifts, defining work areas and logistic roles (e.g. container loading, storage at height, indoor/outdoor areas, etc.). The system adapts to the requests of the planner, and alerts via email/SMS or other device.
Logistic Constraints
Time: each mission can be associated with a maximum time within which it must be performed
Priority: some missions may have a higher priority, so they are assigned with precedence
Assignment constraints: some missions can only be carried out by forklifts with certain characteristics or by authorized operators
Machine Learning
The system is continuously learning to improve the reliability of the estimates of the time taken to travel through the warehouse. Accurate speed modeling helps to faithfully represent warehouse dynamics and therefore schedule more effectively.
WMS / ERP interfacing
The company's WMS / ERP software generates the loading unit transfer missions and transmits them to the RTLS Mission Scheduling, which takes care of finding the best mission distribution scheme. The result is sent to the WMS / ERP or to the FGS (Forklift Guidance System software).