Warehousing
---
Software for warehouse logistics and real-time supply-chain, integration with storage and identification technologies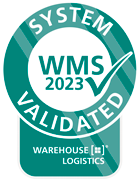 Fraunhofer IML validation
In 2023 Onit obtained the Fraunhofer IML validation for On.Plant/WMS.
The important German research institute, part of the largest applied research organization in Europe (Fraunhofer-Gesellschaft), has certified the quality of the software which allows for optimal organization and complete tracking of warehouse flows, from receipt of goods to shipping and returns management.
Improving the warehouse is an order
Logistics is constantly changing and becomes more and more complex every day. The items in stock increase, the average size of orders tends to decrease and order fulfillment time is increasingly short. This trend, combined with the need to reduce costs, translates into the need to change the stock management and optimization strategy.
The On.Plant digital platform favors this change, supporting a path aiming at warehousing efficiency, both on conventional and automatic warehouses.
Our software dedicated to Warehousing
On.Plant supports real-time stock management and the organization of material and resource flows, interfacing with various identification systems (Voice-Picking, Pick-to-Light, RTLS, etc.), with automated storage and handling systems and with software related to the Manufacturing and Transportation areas.
The advantage of working with our software
Reduction of the cost of labor in the warehouse
Faster order fulfillment
Reliable and real-time storage
Reduction of minimum stock levels
Reduction of shipping errors and customer returns
Reduction of inventory adjustments for material losses
Waste reduction: management of deadlines/rotation
Visibility on ongoing activities and performance reports
Cutting-edge picking (RTLS, Voice-Picking, Pick-to-Light ...)
Integration with national/international carriers and couriers
Constant interfacing with ERP and company software
Cloud/On-Premises architecture aligned with your IT investments
Are you interested in the On.Plant suite? Fill in the form
On.Plant is the innovative software platform that simplifies the complexity in the various areas of your Operations and Supply Chain, through flexible, effective and quality solutions and services.
---