Forklift Guidance System - FGS
---
FGS uses localization technologies for Auto-ID of XYZ position of each Load Unit that is moved, thus eliminating the time of the barcode reading. The 3D graphics increase the productivity of the forklift drivers, who are guided throughout their journey.
Description
---
FGS is an RTLS application that allows you to track the position of the Load Units in real-time thanks to the Auto-ID functions. The XYZ position of each Load Unit is stored or collected by combining the information of the position and orientation of the forklift with the status of the forks.
The 3D representation on the forklift's display allows you to quickly reach the pick-up and deposit points thanks to navigation functions.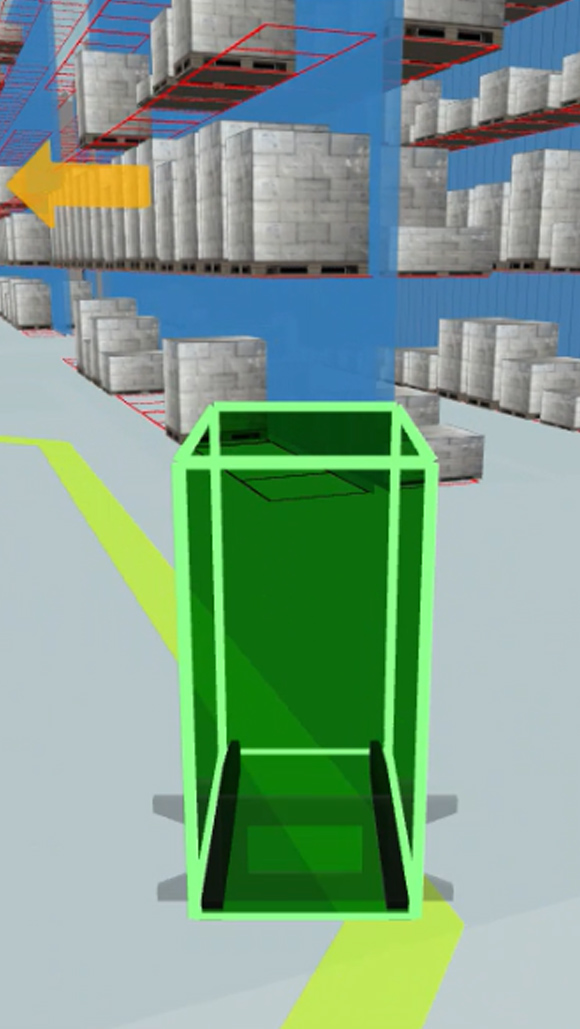 Advantages
---
Reduction in the cost of the forklift fleet
Productivity increase of forklift drivers: 10-20%
Increased data reliability of the warehouse stock thanks to the Auto-ID
The Control Room can monitor the activities of the fleet in real-time
Reduction of wasted time when searching for pallets
Flexible management of the warehouse layout
Reduction of the training time of the forklift driver
FGS features that improve your work
3D warehouse
Real-time tracking of the XYZ position of the Load Units stored in the warehouse, or moving on the forks of the forklift or on any other handling system.
Suitable for any type of warehouse.
Navigation
On the on-board terminal's display, the forklift driver views the 3D "digital twin" of the warehouse, and receives clear indications on the route to follow to reach the starting point (pick-up) and the destination (put-away) of the transfer mission generated by the WMS.
Auto-ID
The centimeter-accurate geolocation of the forklift and the sensors on the forks allow to self-identify (Auto-ID) the position in which the pick-up and put-away operation took place.
Monitoring
Checks the position and work of forklift drivers in real time.
The logistics manager can send commands that the forklift driver will see on the terminal on board and can define the role/work areas of each forklift driver and forklift.
Integration with automatic systems
When FGS recognizes that a forklift is positioned in a special warehouse area/location, it can trigger automations without human intervention: pallet label printing, film wrapping process activation, door opening, sending data for tracking, etc.
WMS/ERP interfacing
FGS is interfaced with the company warehouse management software WMS/ERP, from which it receives the list of Loading Units and Transfer Missions. FGS aligns the WMS/ERP on the location of each Load Unit in real time.