Transportation
---
Software for transport planning and optimization, travel tracking and centralized communications with your transport network, in real-time.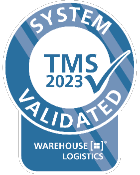 Fraunhofer IML validation
In 2023 Onit obtained the Fraunhofer IML validation for On.Plant/TMS.
The important German research institute, part of the largest applied research organization in Europe (Fraunhofer-Gesellschaft), has certified the quality of the software that allows the planning and optimization of shipments, enables tracking of trips in real-time and facilitates communications within the transport network.
The future is on the move
Where are the goods shipped? Is the load optimized or can I increase the occupancy of the vehicle? Will the truck arrive on time with this traffic? The adoption of digital technologies to share information and optimize processes allows to answer these and many other questions, simplifying the inherent complexity in the world of freight transport.
A pivotal digitization to make freight and people transport more efficient, and contribute to improving liveability in our cities.
Our software dedicated to Transportation
On.Plant optimizes travel planning by reducing kilometers traveled and increasing vehicle saturation, supports the booking of loading/unloading slots and manages access to the ramp, tracks deliveries and digitizes documents.
All this while automating the calculation of costs/revenues for each trip.
The advantage of working with our software
Lower costs thanks to load and route optimization
Carbon Footprint reduction
Reduction of time spent by the office on planning
More communication between client, transporter and customer
Greater efficiency in the use of the vehicle fleet
More on-time delivery and more Customer service quality
Less paper with the digitization of transport documents
Disputes managed thanks to the data collected on the Driver App (POD)
Reduction of waiting times at the forecourt for delivery/ loading
Zero risk of jointly responding to non-compliance on transport
Real-time tracking of the status of deliveries and traffic
Cartographic maps for the distances of heavy vehicles
Are you interested in the On.Plant suite? Fill in the form
On.Plant is the innovative software platform that simplifies the complexity in the various areas of your Operations and Supply Chain, through flexible, effective and quality solutions and services.
---