Monorail system
---
Automates the transport of goods within the factory, through integrated and intelligent fleet management. The control system optimizes the use of vehicles based on the workloads and guarantees real-time supervision of the monorail system.
Description
---
Monorail System is a specific solution for the software management of a monorail installation: from trolley control to integration with the WMS.
The system is configurable according to the needs of the factory and, thanks to advanced control algorithms, it adapts in real time to the workloads and allows for an optimized use of vehicles.
The supervisor's intuitive interface also allows for complete and timely monitoring of the system.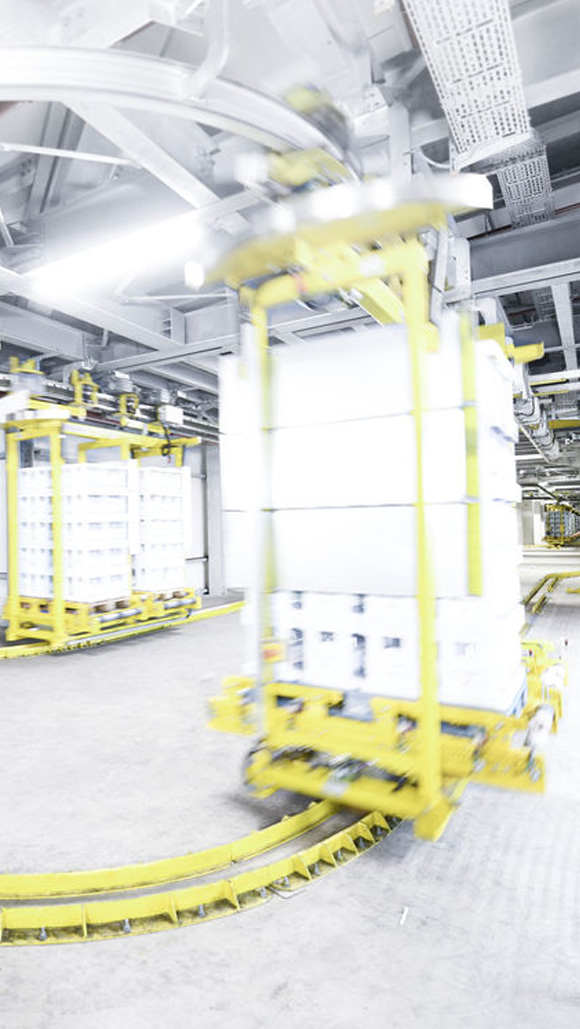 Advantages
---
Reduction of intralogistic transport times
Maximum integration with factory logistic flows
Greater energy savings with efficient vehicle movement
More reliability thanks to fewer manual interventions
Faster resolution of anomalies thanks to precise and timely information
Reduction of installation and start-up times
The Monorail System features that improve your work
Smart supervision
The operator has a supervision control room with real-time data and simple and intuitive operating interfaces, all on a modern web-based platform.
Tracking missions
Each handling unit is tracked and identifiable on the supervision system, to know the position of the goods in motion, their origin and destination at any time.
Automatic balancing
Adaptive algorithms allow for the optimal movement of the plant vehicles, guaranteeing a prompt response based on variable workloads and reducing both transport times and costs.
Priority missions
To prioritize a specific type of traffic, the system provides service levels that can be adapted to the different needs of the logistics departments (supply of production lines with respect to the cold chain, priority to shipments for sale, etc.).
Sorting for shipments
The system guarantees the sequencing of goods based on customer orders. When loading a motor vehicle, for example, it guarantees at the same time the maximum possible use of the vehicles to minimize loading times.
Ad-hoc customizations
The addition of customized control logics according to the needs of the factory allows to obtain an integrated solution suitable for the company application.
Access control
Each user has personalized credentials to access the supervisor with an authorization level appropriate to their duties, so as to guarantee the security of information and the traceability of operations.
Installation, distribution and maintenance
The modular architecture reduces installation and start-up times and risks, with the ability to install updates and perform maintenance remotely.
Industry 4.0
As part of Industry 4.0, system performance indicators and plant operating data are collected and available on the iOTTO cloud platform, allowing for the aggregate analysis and visualization of trends.
Plant simulation
The plant simulation stage is carried out even before the start of the work on the ground, allowing to evaluate in advance the sizing and performance of the system. Afterwards, the simulation is used as a diagnostic tool.