Forklift Tracking and Analytics
---
Tracking the location of the forklifts in real-time, and historically analysing their paths in the warehouse, taking into account their phases of inactivity, and including the most congested areas in the warehouse, increases the visibility of the fleet's productivity to the Logistics manager. That way, the managers can make it more efficient.
Description
---
RTLS location technologies allow for real-time fleet tracking, detecting position, orientation, speed and usage status of each forklift.
The reports of this feature answer crucial questions such as:
How long does it take for an operator to move a pallet?
What are the most used routes?
What are the most congested areas?
Where and when do prolonged stops in the warehouse take place?
Is the scheduling of the company WMS/ERP optimal?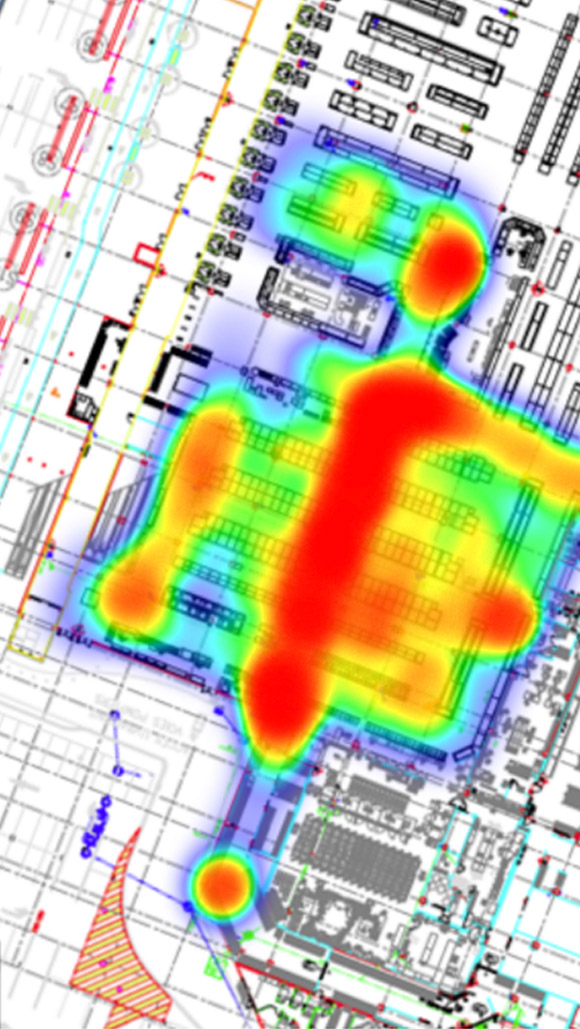 Advantages
---
Tracking allows for greater awareness of the use of the forklifts
The report of the completed paths highlights the inefficiencies and enables analysis
The heatmap report helps you identify busy or low-productivity areas
The timeline of the forklifts movements allows you to check the scheduling logics
Advanced Analytics, heatmaps e spaghetti charts
Forklift Tracking and Analytics features that improve your work
Real-time tracking
Visualization on top of the warehouse layout of the status of each asset in real-time: position, orientation, speed and optionally load status and height of the forks. Position information accuracy: 10cm.
Geofences
Design of virtual polygons to divide the warehouse area into sub-areas to which configurable behaviors can be associated, such as alerts for entry/parking in an area prohibited to the forklift or usage statistics of the various moving assets divided by sub-area.
KPI
Statistics about the operation of each forklift:
Driving, stopping and off time
Distances traveled
Average and maximum speed
Optional analysis of the fork' status: loaded or unloaded
Spaghetti chart
Warehouse layout visualization of the paths driven by the fleet of forklifts, with analysis up to the single segment traveled by the forklift, in terms of times and speed, or the points where prolonged stops took place. Ability to reproduce the routes in accelerated "timeline" mode.
Heatmaps
The heat map is a visualization of the operational data of the fleet of forklifts on the warehouse layout highlighted with gradation of colors. The analysis of the positions highlights the most congested or unproductive warehouse areas.
Business Intelligence
The statistical data on the operation of each forklift can be exported in CSV table format or can be exported to the company Business Intelligence system through automated data interfacing.