Production Plant Supervision
---
Efficiently supervises the production process, providing a single point of access and control of the automatic subsystems that make up the line and communicating with them in real time.
Description
---
The Production Plant Supervision solution allows for the creation of a singlecontrol point for the entire production process, based on the digital twin representation of the systems that make up the production plant. It acts as an integrator between the manufacturers of the individual machines.
The application retrieves diagnostic and operating information, allowing you to set the work parameters based on requests from the MES.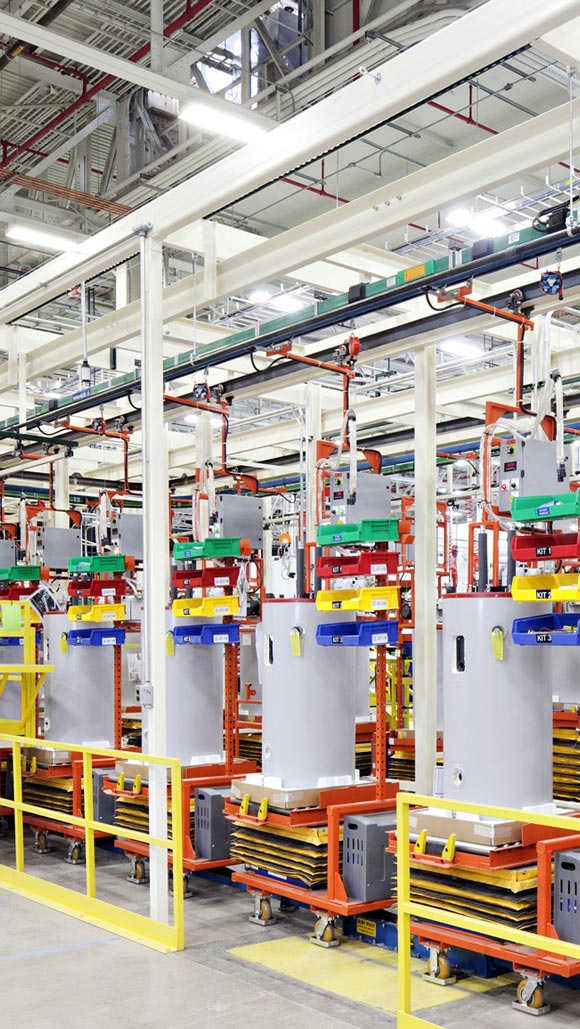 Advantages
---
Efficient management of the production process
Can be integrated with existing MES production management systems
Single point of supervision and control of the production process
Designed to easily adapt to the evolution of production processes
The Production Plant Supervision features that improve your work
Process supervision
The operator, through intuitive web interfaces, is able to supervise the operating status and set the working parameters of multiple machines directly from a single management point.
Monitoring and diagnostics
The system recovers anomalies in real time from individual machines and provides diagnostic tools that guide the operator in resolving the signals.
Integration with management systems.
The system can be interfaced with existing WMS. The information flows are bidirectional and in real-time: WCS receives the handling requests and notifies about the related events of interest.
Integration with IIoT platform
Through specific connectors, it is possible to activate a bidirectional data exchange with IIoT platforms, an enabling solution for Industry 4.0 projects.
Are you interested in the On.Plant suite? Fill in the form
On.Plant is the innovative software platform that simplifies the complexity in the various areas of your Operations and Supply Chain, through flexible, effective and quality solutions and services.
---