Voice Picking
---
Voice recognition technologies providing easier communication between the warehouse systems and the picking operator, so they will work hands-free and in greater safety.
Description
---
Voice Picking uses voice engines to communicate with the warehouse operator, who receives the instructions through the headset and confirms the activities carried out via the integrated microphone.
The application allows for fully hands-free work, avoiding errors and increasing safety in the warehouse.
Speech recognition is adaptive, ideal for interpreting the speech of any operator, even in different languages. The headphones ensure clear communication, even in the presence of noise.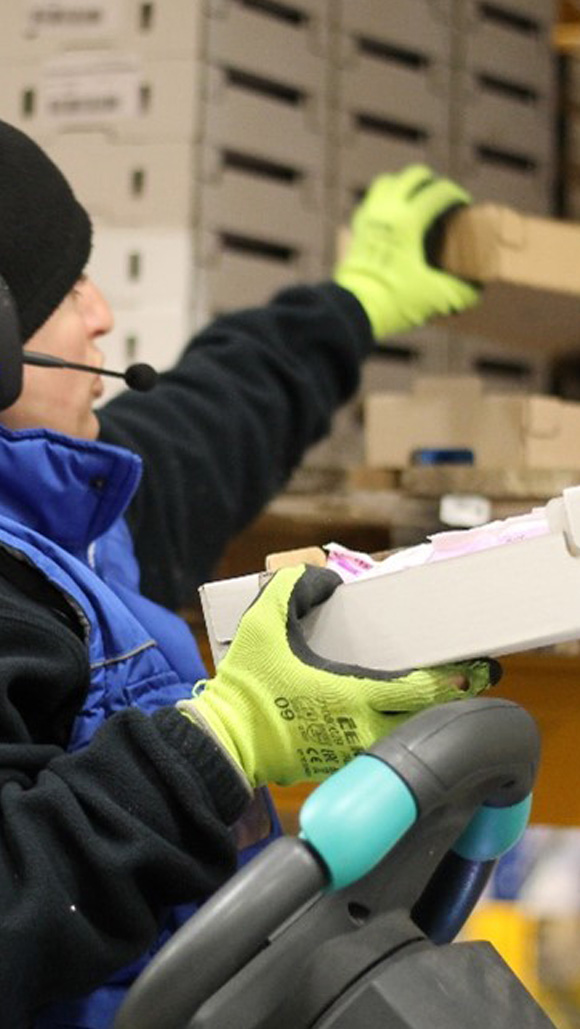 Advantages
---
Increased productivity compared to reading a picking list
Fewer errors in the preparation of shipments
More safety, being hands-free and not distracted by the display
Highly reliable speech recognition thanks to algorithms
Voice Picking features that improve your work
Text-to-Speech TTS
The digital instructions of the company ERP or WMS software are sent to the Voice Picking device which transmits simple and easy to understand audio commands to the operator (e.g. "go to" the picking location, "pick up" number of pieces, "count" location, etc.)
Automatic-Speech-Recognition ASR
The operator replies verbally confirming the operations performed: check-digit to verify that the operator is actually in front of the requested location, quantity of pieces removed, any other commands to request clarifications from the system.
Customizable workflow
Through the interpretation of the commands, the operational flow guides the operator in the execution of the preparations, avoiding errors and facilitating the picking. The decision-making procedure can be customized for preparation specifics (e.g. fine print, variable weight, etc.).
Adaptability
The voice system allows the operator to change the speed of command execution and to enable self-learning of commands to adapt/customize voice interpretation. Different languages can be managed, depending on the operator.
Hardware Independence
The solution is hardware-independent, based on Android or Windows CE OS. The Onit R&D laboratory periodically tests the voice devices and headphones available on the market, in order to certify their interoperability with its systems and their performance.
ERP integration
In addition to being fully integrated with the WMS, the voice-picking module can also be used with external sources, ERP or order portals, which can be easily connected through well-defined and documented standard integrations.